History
Zimmer® Polymer Technologies history
For over 70 years, the Zimmer name has stood for the highest quality of technology, processes and plant designs for polyesters and polyamides.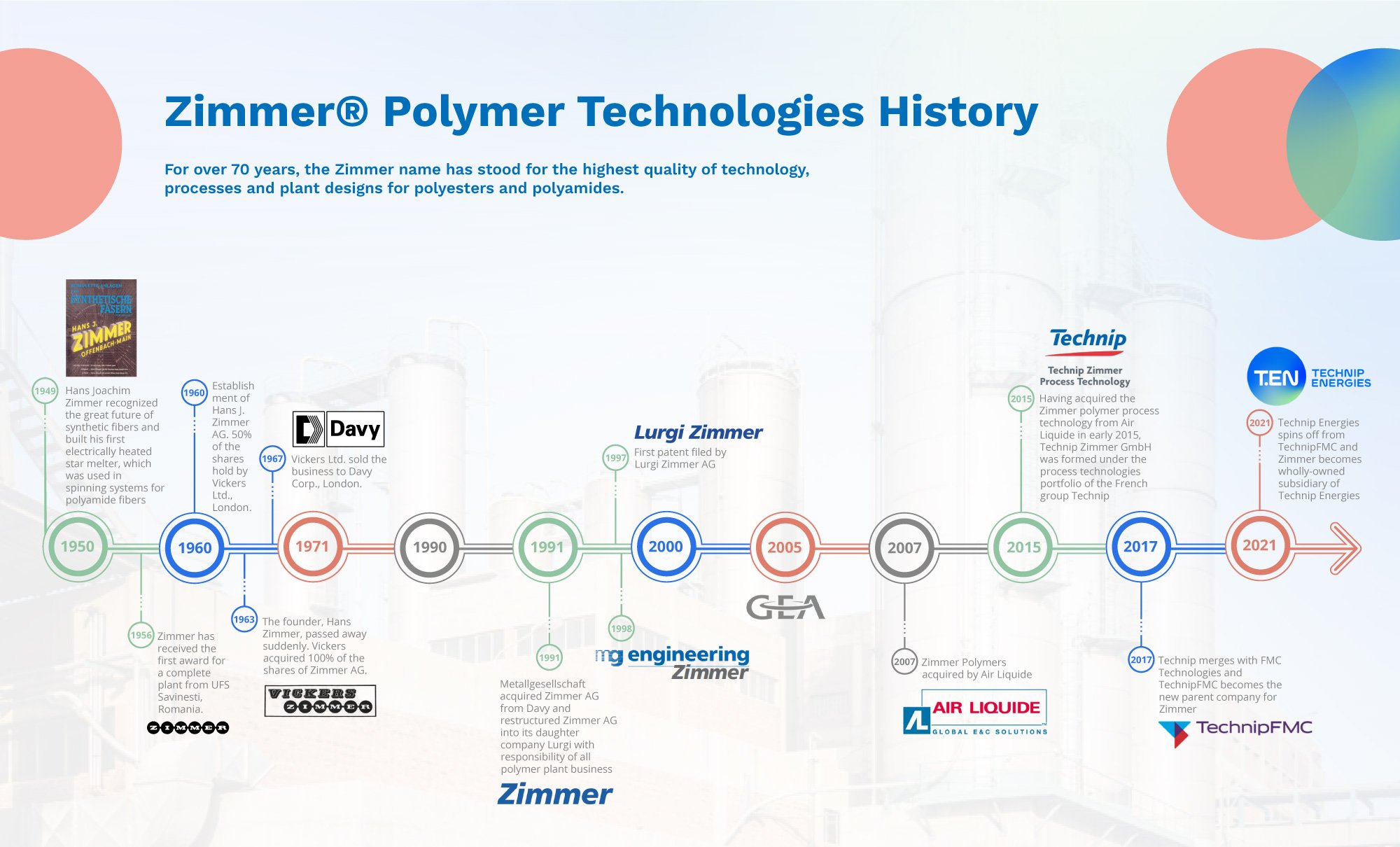 1949: Hans Joachim Zimmer recognized the great future of synthetic fibers and built his first electrically heated star melter, which was used in spinning systems for polyamide fibers.

1956: Zimmer has received the first award for a complete plant from UFS Savinesti, Romania.

1960: Establishment of Hans J. Zimmer AG. 50% of the shares hold by Vickers Ltd., London.

1963: The founder, Hans Zimmer, passed away suddenly. Vickers acquired 100% of the shares of Zimmer AG.

1967: Vickers Ltd. Sold the business to Davy Corp., London.

1991: Metallgesellschaft acquired Zimmer AG from Davy and restructured Zimmer AG into its daughter company Lurgi with responsibility of all polymer plant business.
1997: First patent filed by Lurgi Zimmer AG.

2007: Zimmer Polymers acquired by Air Liquide.

2015: Technip Zimmer Process Technology. Having acquired the Zimmer polymer process technology from Air Liquide in early 2015, Technip Zimmer GmbH was formed under the process technologies portfolio of the French group Technip.

2017: Technip merges with FMC Technologies and TechnipFMC becomes the new parent company for Zimmer.

2021: Technip Energies spins off from TechnipFMC and Zimmer becomes wholly-owned subsidiary of Technip Energies.